An International Architectural Collaboration in Georgia
A359 Partners in Architecture was invited to participate in an international design competition for a new public service hall for the country of Georgia. Upon review of the design submissions, A359 was awarded the commission for architecture and interior design for the Poti branch on the western coast of Georgia near the Black Sea.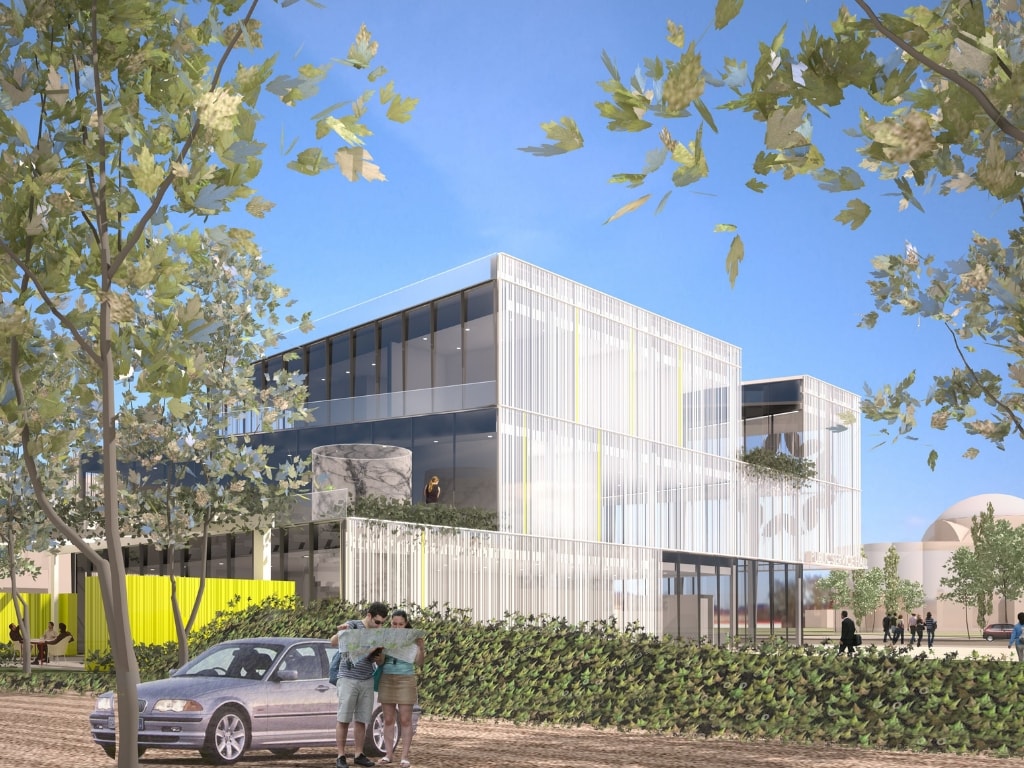 A359 principals Brian Coffman and Robert Rich traveled to Georgia to tour other public service halls in the country with the Ministry of Justice. They visited the site and met with local government officials who would share space in the facility.
Architectural Design for a New Approach
The Government of Georgia envisioned these halls as providing "one stop shops" in each region where citizens could access essential public services. The buildings and their interior design were to embody the transparency and care in processing legal documents.
In the country's public service halls, residents can tap into key government services, such as access to public records, issuing of passports and IDs and business registration. Because these services are housed in one building, there is no longer a need to visit different governmental offices. Putting services under one roof provides a much needed service to residents while saving the government operational costs.
The country's first public service hall in Georgia was opened in May 2011 in Batumi. A design and construction program was undertaken to introduce service halls in towns and cities throughout Georgia. The design competition for the Poti branch originated from this program.
Design Follows Function
In A359's design, Poti's 20,000-square-foot public service hall sits at the city center, north of the Poti Cathedral. The building greets visitors with a covered entrance. This covered space provides shade and shelter for a steady stream of visitors while embracing the plaza beyond. As part of our plan, staggered elevated terraces create outdoor rooms oriented toward the plaza and the new State Theatre. These terraces allow natural light to fill all of the building's occupied spaces.  
In the plan, large expanses of patterned glass create an engaging translucency at the upper level offices. The openness and transparency of the ground floor echo the Ministry of Justice's innovative concept of providing citizens with transparent, customer-friendly services all in one place. Passports, marriage certificates and driver's licenses are examples of the diverse services available on the ground floor of the planned building.
The design for the lobby area contains a multi-level space that filters visitors to these service areas through embedded technology. Waiting spaces and a children's area accommodate visitors. A communicating stairway, visible from the exterior, provides access to the prosecutor's office, regional archives and mayor's office.
A359 developed an illustrated detail rendering package for the local Georgian architectural team to finalize construction drawings. This project tapped into our experience in working with international consultants. Hylke Bleeker of Technical Design Studio served as the local architect. Giorgi Chikvaidze of Progresi Ltd. was the structural engineer. Using web tools, we collaborated consistently with the team in Georgia to ensure a finished product that met client and design team goals.
Construction began on Poti Public Service Hall in August 2012. Unfortunately, contentious elections that followed halted this public project. It is currently dormant.
This project was exhibited in Cincinnati Builds the World: Local Designers, Global Territory. This gallery featured international designs envisioned and executed by Cincinnati-based firms. It was displayed at The Architectural Foundation of Cincinnati Gallery.